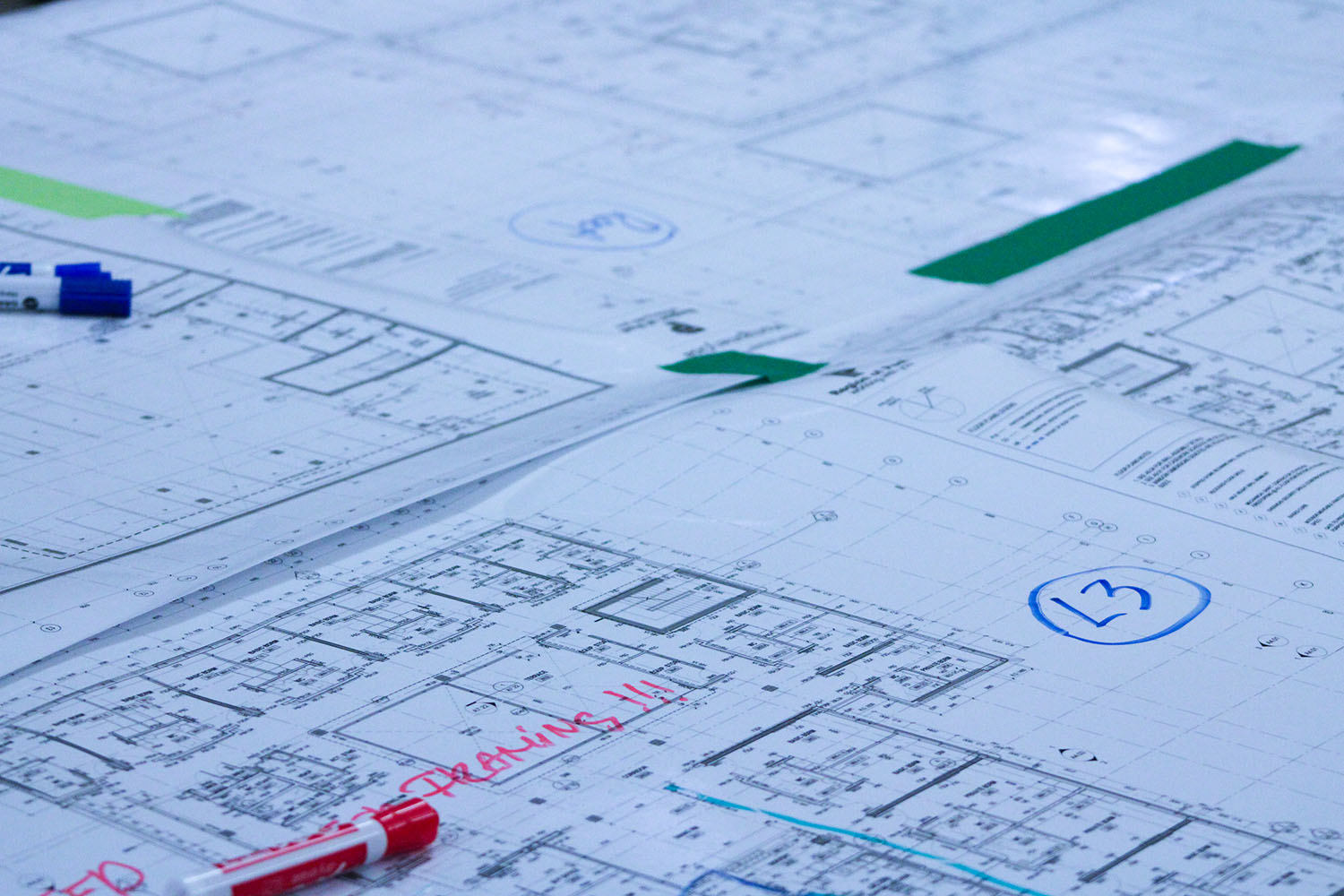 Pre-Construction
Preparing for construction is a critical step in every project, regardless of its scope.  To set our clients up for success, an effective and efficient pre-construction phase is critical. Our experienced pre-construction team effectively collaborates and works with clients to limit risks and provide realistic recommendations throughout development and design helping with costing and feasibility analysis.
We are prepared to work with clients and consultants to help develop innovative solutions that may require "outside the box" thinking, providing the best solutions in the design, budgeting and scheduling of projects. For Buttcon we offer everything from project financing, to development, design management, constructability, and facilities management input. Clients prefer to work with Buttcon and use our services to review preliminary designs and build out preliminary budgets. These first steps to price certainty allow clients to eliminate unnecessary project risks and helps establish milestones for project success.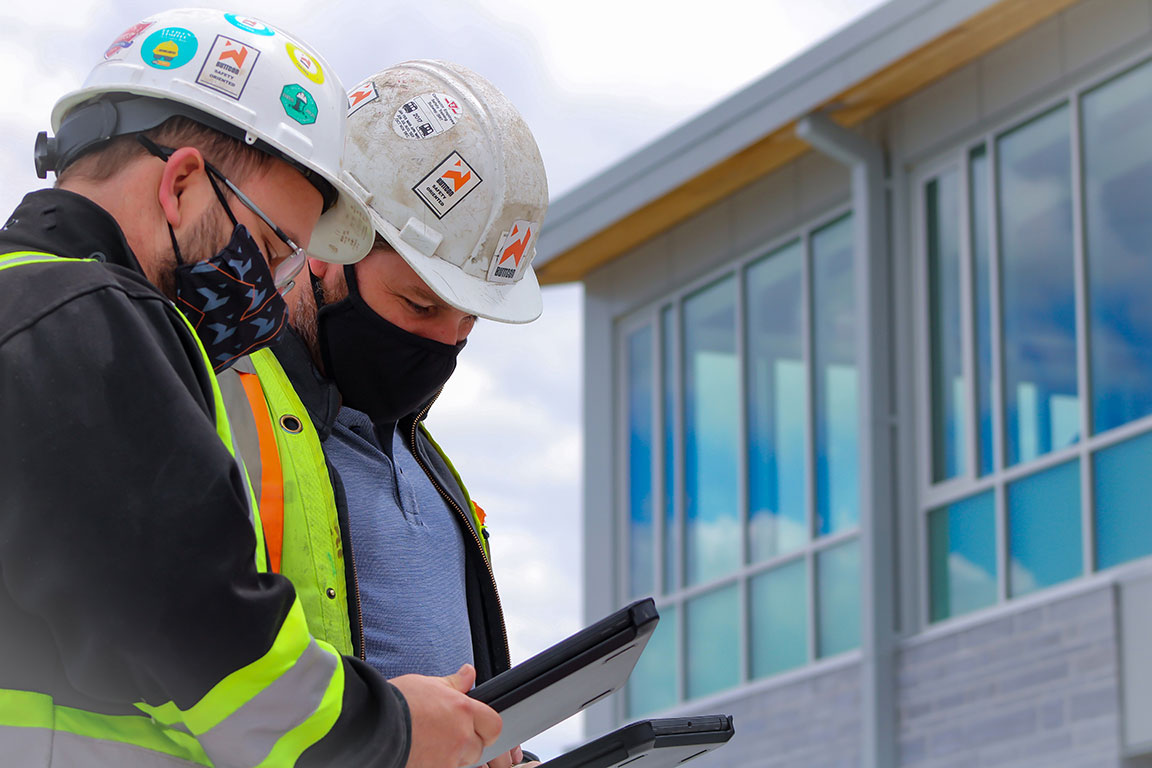 BIM
Buttcons Visual Design Construction/BIM teams use 3D modeling to create a collaborative forum that visually plans the construction of a building at every phase of pre- construction and construction. Modelling provides a clear portrayal of the project to all stakeholders demonstrating the design, construction, and management of a structure. A key component of the process is to enhance early collaboration and communication among all parties throughout the duration of the project, and to facilitate information sharing. This system is put into place during the design stage, estimating and progressing into the construction stage of a project through to commissioning. By doing this we identify the needs and constraints of a project which result in a safer, faster, and cost-efficient process.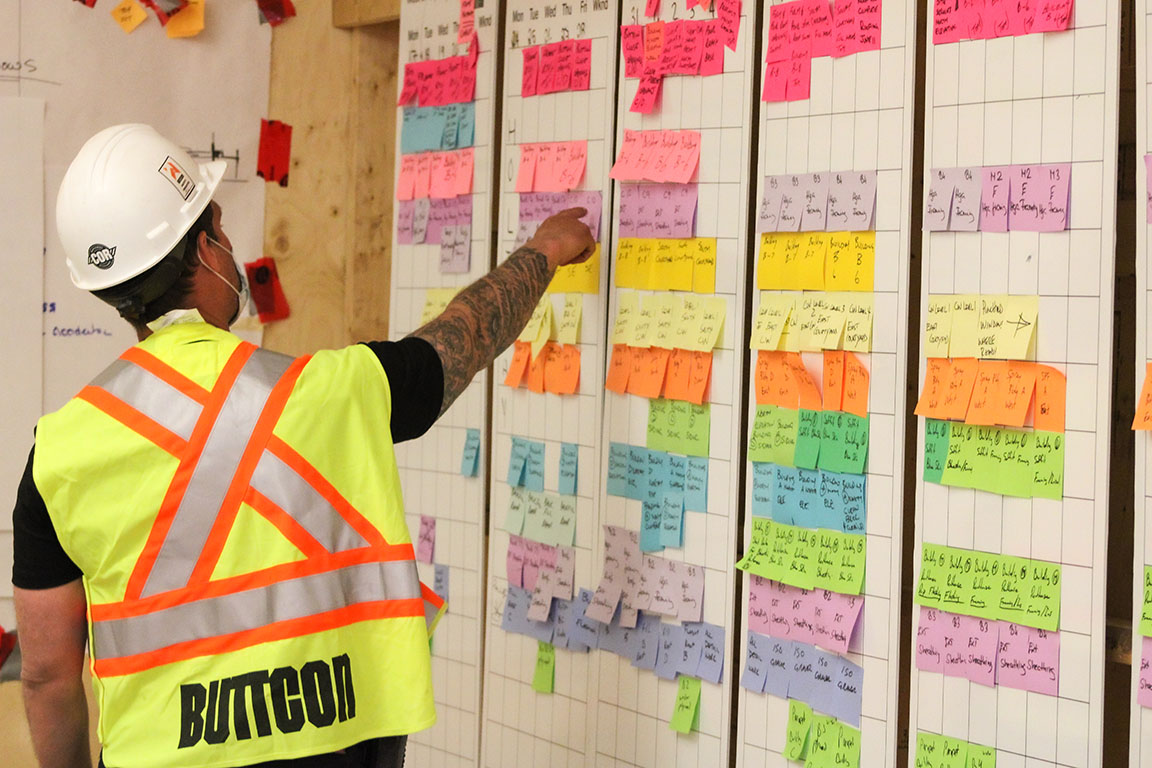 LEAN CONSTRUCTION
Buttcon uses LEAN construction methodology to help us improve construction efficiency and quality while minimizing waste on a project. LEAN construction enables clients, consultants and trades to collaborate and resolve any issues prior to starting construction and will help achieve continuous improvements throughout the project life cycle. What is learned in one project can be applied to the next there by enabling us and our partners to improve our efforts on future projects. For example through collaborative discussions we can reduce resource use and time to build, this proactive approach can help reduce costs and shorten construction timelines.
For Buttcon LEAN construction helps teams recognize gaps and project shortcomings in the construction process and it allows us to take constructive actions to improve the project. Ultimately the benefits of LEAN construction include an increased understanding of the project and can impact the environmental footprint.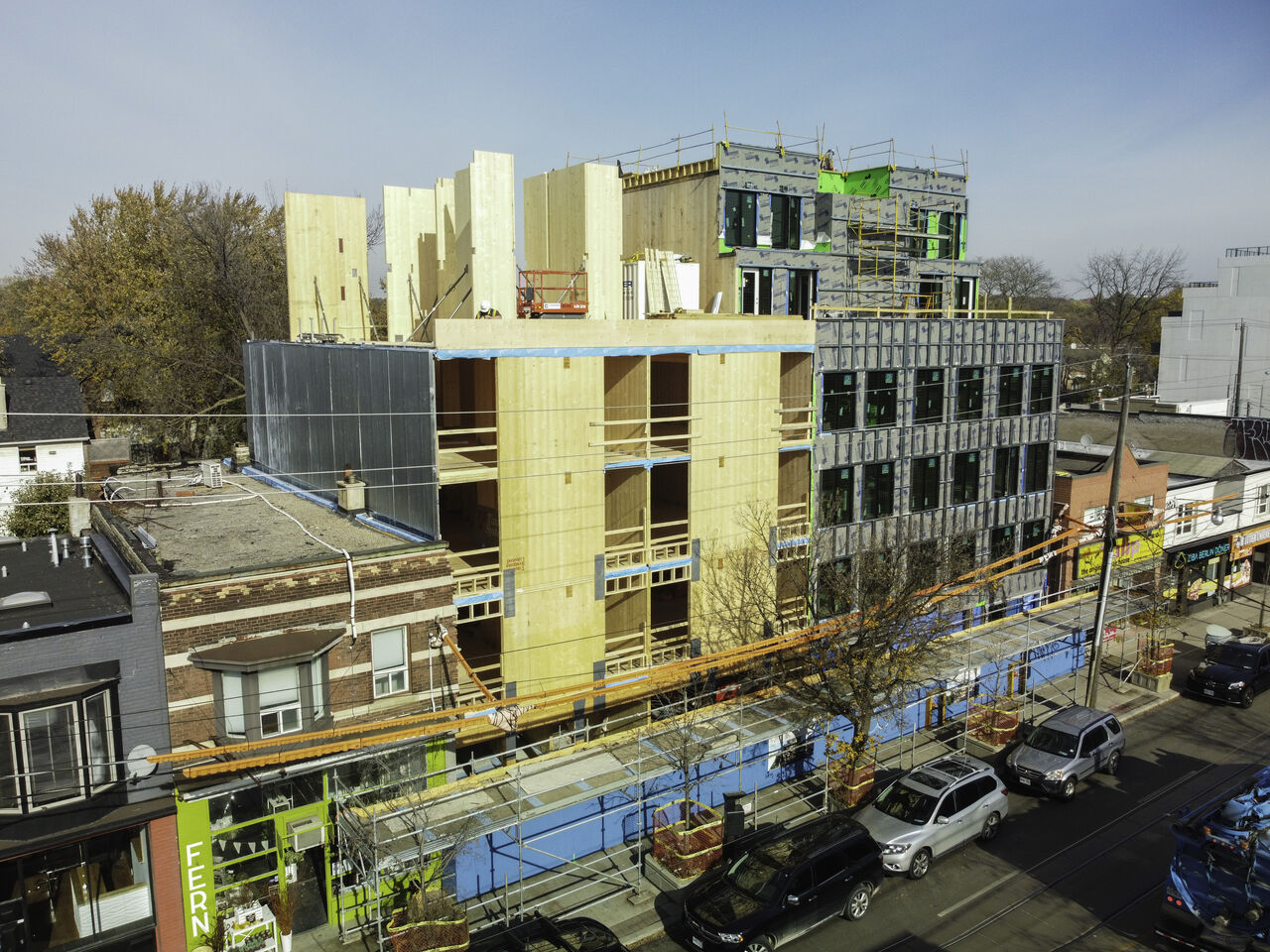 PREFABRICATED AND MODULAR
Rapid construction solutions incorporate leading edge construction methodology with technology, utilizing modular design and prefabricated panel construction to provide clients reduced construction schedules, improved quality, improved safety, and a sustainable building solution.
Buttcon partners with clients to select the best, most viable, value-driven qualified manufacturer that can not only collaborate effectively but utilizes sustainability, technology, and guarantees delivery of the manufactured components for the project. Buttcon has fully integrated rapid construction partners from across Ontario, Canada and internationally that provide the best solution for our client's individual needs. Our manufacturers bring unmatched value, quality and commitment to each project and provide design-assist insight to projects.
Rapid construction is dependent on early collaboration with all parties in the early design phases. Our commitment to early collaboration is the foundation of a successful project. With the use of 3D, and 4D modeling Buttcon and its partners can work with Clients in creating project models, ensuring that all design and technical issues are identified and solved before site plan approval. This proactive partnering approach can rapidly reduce the schedule, reduce labour costs and minimize or even eliminate change orders and design revisions.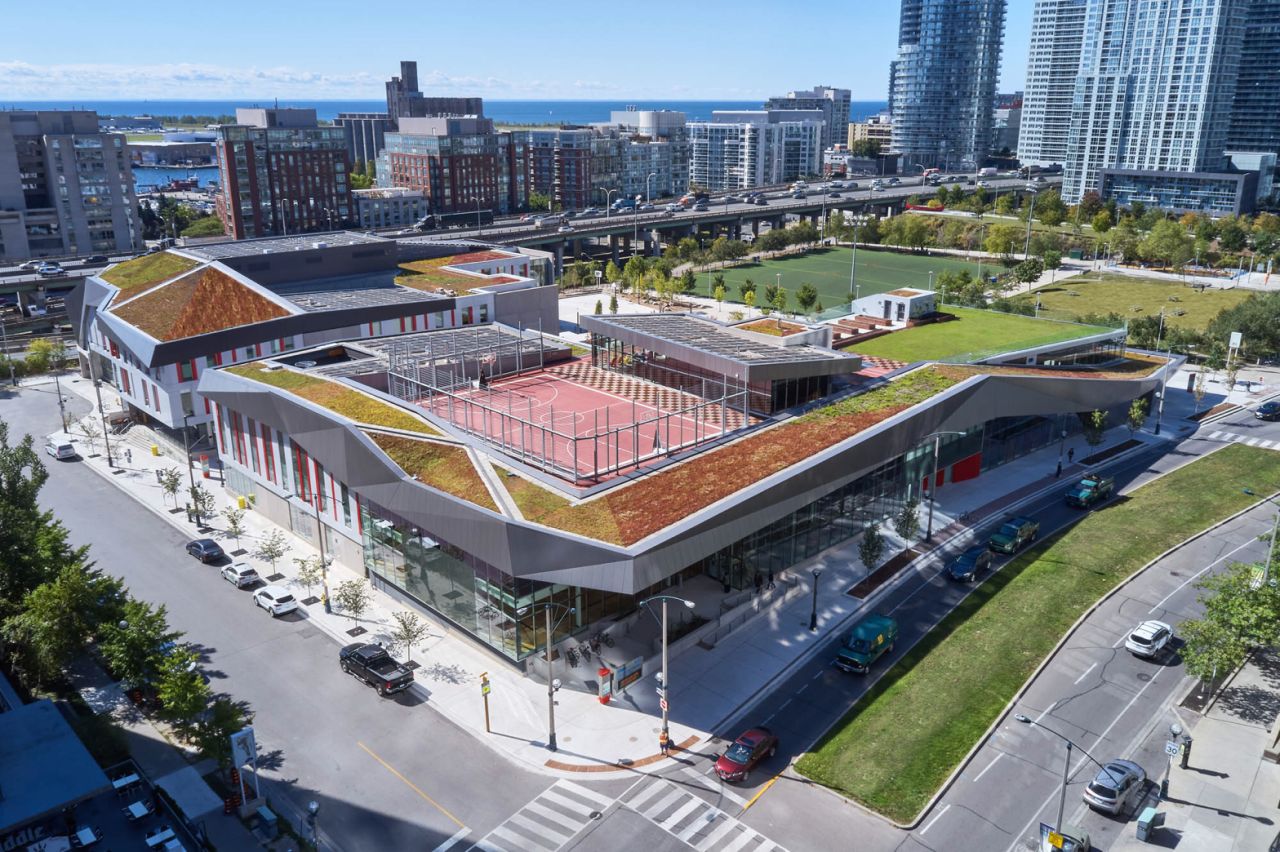 SUSTAINABILITY
Buttcon believes in sustainable building and its potential to improving the quality of construction and the long- term benefits of building for a better quality of life for generations to come. Buttcon is a founding member of the Toronto Chapter of the Canadian Green Building Council and supports our staff and trade partners by ensuring that they receive the training and experience needed to provide the best sustainable solutions.
Experience has taught us that to apply "sustainable" thinking to our projects we need to consider which activities and strategies best apply to each unique project. These strategies include LEED, Net Zero and Passive House building methods that reduce the impact of the project on the environment and to construct a space that will be both comfortable for the occupants and allow for continued future expansion and/or re-use.
With our collaborative approach on implementing strategies for sustainability, we provide the best solutions for Clients to not only build effectively but also respect the environment, serve the community, and helps others to see the benefit of living sustainably, leading the way for a healthier future for us all.
SHELTERED CONSTRUCTION
Upbrella International Inc. and Buttcon Limited have entered into a licensing and partnership agreement for the deployment of Upbrella's high-rise sheltered construction technology in Ontario with the potential of expansion across Canada.
Upbrella International, a business unit of 3L Innogenie, deploys Upbrella's patented high-rise sheltered construction technology. With Upbrella, the final roof is installed first with successive floors built and lifted into place without tower cranes, Typical Upbrella solutions consists of a protective enclosure with a peripheral work platform and integrated materials-handling systems to create a manufacturing-like environment for improved productivity, worker safety and faster project delivery.
Upbrella International has received multiple innovation awards including the 2017 PwC Vision 2 Reality (V2R) Innovator of the Year Award in the "Disruptors" category, and Most Innovative Product of the Year 2016 from the Toronto Construction Association.