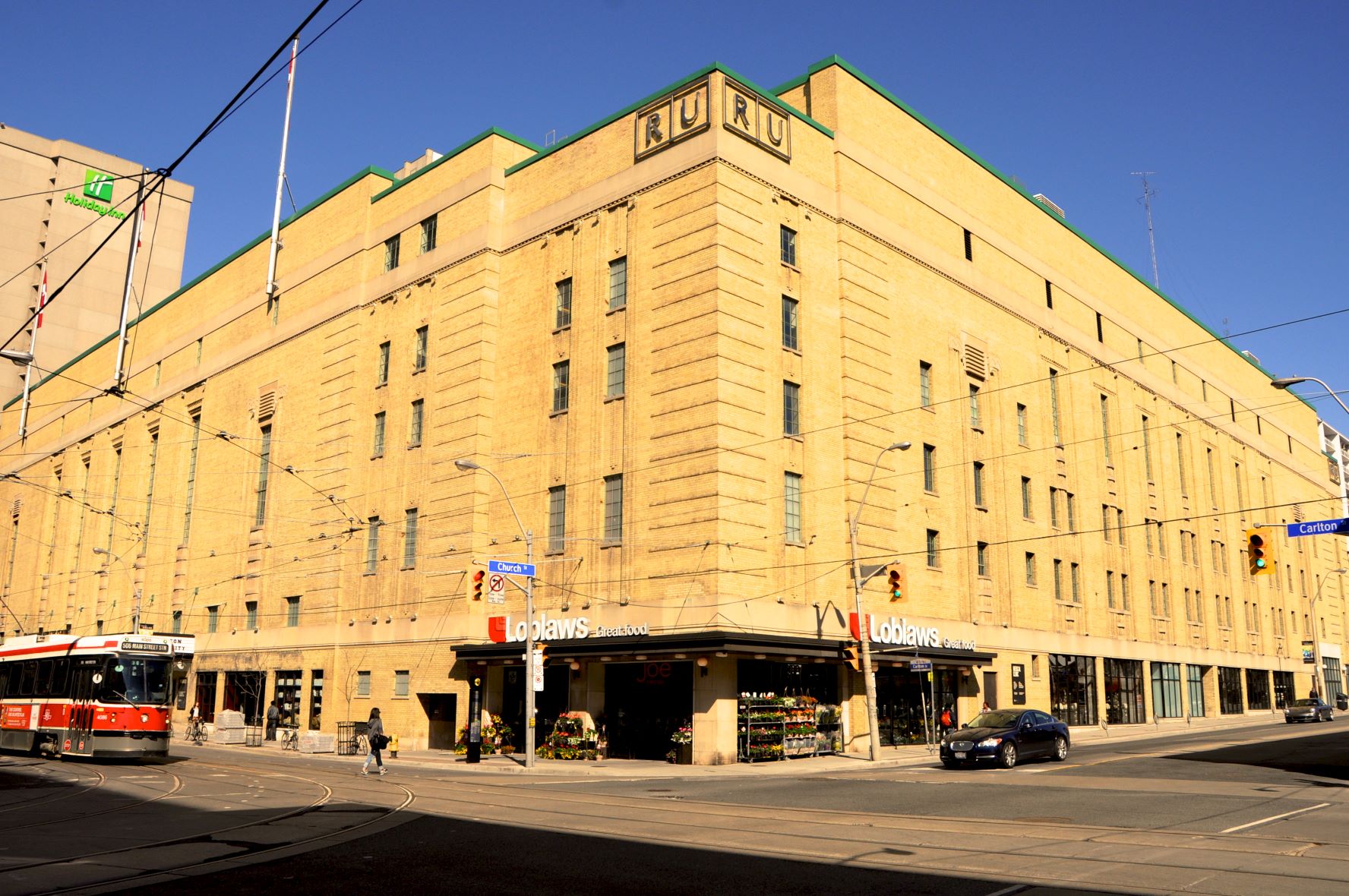 Description:
One of Buttcon's most notable projects is the conversion of Canada's oldest hockey shrine into a major retail flagship: (Loblaws) and University (Ryerson) Athletic facility including spectator ice rink and gymnasium, fitness facility and support areas (i.e. change rooms and concessions).
This re-modernization project was a blend of structural ingenuity and innovative system integration. Buttcon took a customer-centric and collaborative approach based on the multi-stakeholders and interests. Buttcon's construction experience and expertise ultimately helped the team find a solution to bring the project into an affordable range by suggesting alternative demolition methods related to the internal structural components.
The logistical challenge of this project was not only maintaining the historical integrity of the building, but demolishing it from within and reconstructing new facilities that ranged from a Loblaw Great Food grocery store, an LCBO store, a Joe Fresh clothing store, a medical centre and a lower level parking garage. The completed facility was fully restored and contains over 400,000 square feet of added space with new mechanical, electrical and life safety systems installed throughout.
Upon completion of the base building, Buttcon worked with Loblaw Properties Limited to construct a new Loblaw Great Food grocery store, which involved the installation of a 150,000 square foot commercial facility with one level of underground parking. The store holds a 1,400 square foot cooking area, specialized food service units, a wall of cheese that extends five metres tall, a high end kitchen facility, food bars, a deli, a cooking school, coffee shop with a gelato station, 2 level Ace Bakery, butcher and fish counter, a cooler with a variety of hanging meats, olive table, tea emporium, and many more elements. The grocery store was completed with specialty finishes that included marble and high end imported finishes, fixtures and equipment.
The history behind the existing walls of Maple Leaf Gardens was nothing short of amazing. This project has offered a new facility for Ryerson students and the general public to make many new memories. One of the most significant elements of this project is the recreation of the new ice surface directly above the original centre ice. This unique facility provided Ryerson University with one of the best post-secondary athletic facilities in Ontario.
The new athletic centre occupies 250,000 square feet of the building. Included in this facility is an NHL-sized ice rink with 2,500 seats in a full bowl configuration, a fitness centre, basketball and volleyball courts with retractable seating for 1000 and concession stands. There are also athletic and administration offices, varsity and guest change rooms and a RAMS café for the Ryerson students. The fitness centre includes workout machines, cardio and strength training equipment, athletic therapy rooms and multi-purpose rooms. The rink area includes team, varsity and guest change rooms, a Zamboni room, athletic and administrative offices, coaching rooms, a skate sharpening area, four private viewing boxes and spectator viewing area. There is an audio visual room, alumni seating on the north and south sides, and a state-of-the-art treadmill used for skate training, rehabilitation and public use.
Other elements of this complex project included leaving the original structural steel and dome ceiling untouched. The exterior brick, along with the original "Maple Leaf Gardens" marquee and windows were restored and were character defining elements retained for their historical value. Unlike any project Buttcon has completed before, the demolition and construction was like building a ship in a bottle.
$128M (includes Ryerson Mattamy Centre & Loblaw Store Fit-up)